I don't know whether to call this an emergency or not. At this stage, I'm leaning toward not...
First things first. I got two new fish today, not adults as I had hoped, but good looking fish nonetheless. Here are some pics -
These two pics are the same fish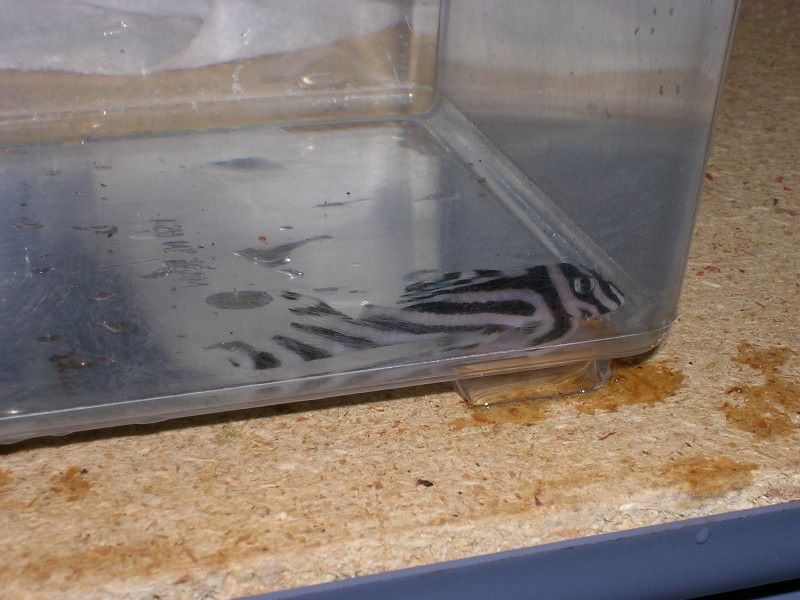 And these two are of the other (sorry about the fuzziness)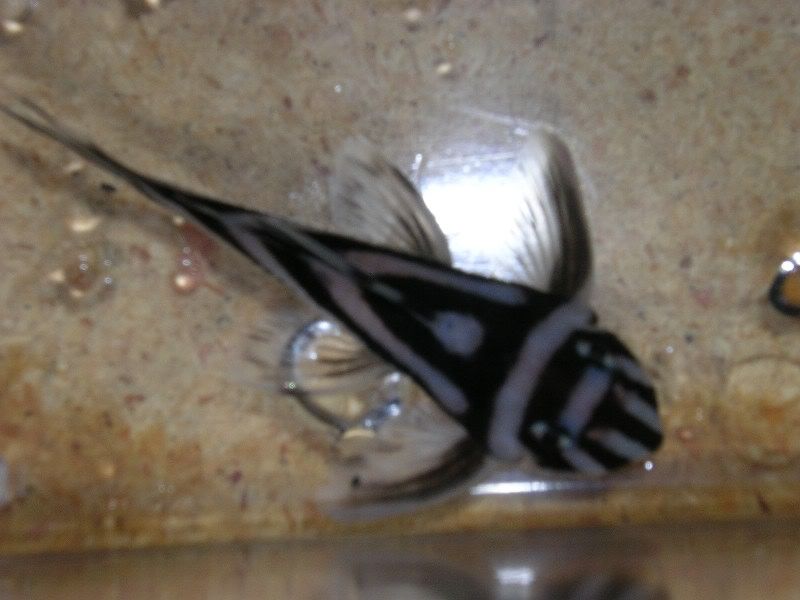 Side by side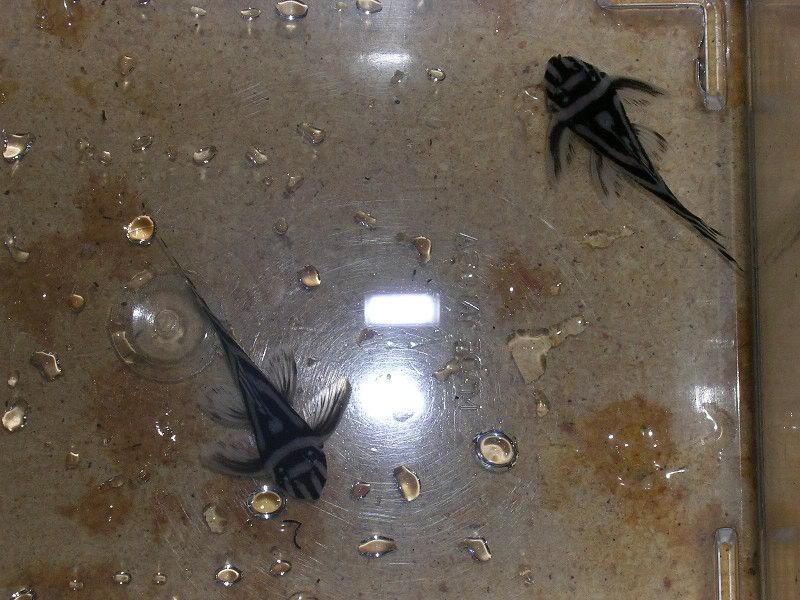 So, here's the story. When these fish arrived they had been in bags for ~21hrs, they seemed to be packed well, with heat packs in a styrofoam container etc. but when I pulled them out of the box, the water in the bags was very cold. Needless to say, the poor little guys didn't look all that active either. I immediately floated the bags in one of my RO reservoirs (82 F) hoping to raise the temp a little, and kept my fingers crossed that it wouldn't raise too quick and heat shock them. After a nerve racking 20 minutes or so I pulled the bags out to take a quick look. Well, one of them was on its back...
I tried not to panic, and just went ahead with my acclimation process. Water from their soon to be home was dripped into the bags over the period of about 1 1/2 hours. During this time I kept a close eye on them, hoping to see any signs of movement, especially from the one that had been on its back. After a while, I was rewarded with a tail flick. I continued to acclimate them and finally they were added to the tank after a brief interlude for a photo op.
As I was pouring the water from their container into the tank, the one that had been on its back started to drift and roll before eventually falling into the tank. Once it hit the open water it scooted away fast enough, but this whole thing still has me a little freaked out. It's been about 2 hours now, and they both seem to be moving around and looking for a nice place to hide, so that's allayed some of my worry, but I wanted everyone's opinion. Is this something I should worry about? Is there anything I can do to help it settle in? If it helps any, the one that was having trouble is the one in pics 1 & 2.
Off topic now, I have a question about my fry as well. I have 5 fry in a 2.5G acrylic tank suspended in my 50G zebra tank. There is a hole drilled in one end and it sits just above the water level of the larger tank to allow it to act as an overflow. Water movement is from a spray bar attached to a 165gph powerhead (only half of the total length of the spray bar empties into the fry trap). The hole is covered with a bulkhead strainer that has an aquaclear sponge slipped over it.
Problem is, lately the fry have been hanging around the surface a lot, and just now when I looked at them one actually had its head out of the water. I've seen ancistrus do this, but that was when a heater had busted and the water was way too hot, this tank sits steady at 86F (checked with 2 thermometers). My first thought was DO levels, so I removed the sponge from the strainer as it was quite clogged with food, and added an airstone to try and get some more turbulence in there. This has me a little concerned. Any thoughts?
Sorry for the long post, I'm sure you guys know what this is like though.
Val